Please help my 10 year old sleep dry. We are frustrated and want to find a bed wetting solution soon. His Boy Scout troop has a week long campout planned for the summer and he wets most nights. What can we do in the next few months to stop bed wetting?
I'm so glad that you are looking for a bed wetting solution now so he has time to stop bed wetting before summer comes. Since the average child takes about 10-12 weeks to get to dryness using a bed wetting alarm, starting now will most likely enable him to be dry by his summer campout. Bed wetting alarms speed up the ability of the brain and bladder to make their connection in the nighttime. Waiting without doing anything would probably find him still wetting by the time summer comes. As you can read in our product reviews, most families are overjoyed at the success that bed wetting alarms bring to their children and often wish they had used the alarm sooner.
The two most popular alarms for his age group are the Malem Ultimate Selectable alarm in the Camouflage or

Royal Blue color or the Malem wireless alarm, if he does not wear a shirt to bed. The Malem Ultimate Selectable alarm unit fastens to his shoulder, where the sound and vigorous vibration come from. This alarm allows him to pick his "ringtone", which many of the kids enjoy doing. If he gets used to one tone and doesn't respond as quickly, he can select another of 8 tones. The small Easy-clip sensor securely fastens to the outside of his own underwear.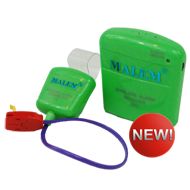 The Malem wireless alarm is well suited for kids who prefer not to have the alarm unit on their shoulder. The wireless receiver, where the sound comes from, should be placed on his dresser so that he has to get out of bed and walk over to it to turn the sound off. If your son has begun waking to an alarm clock to get ready for school, this might be a good choice. Since his brain has connected the importance of waking to his alarm clock, he should be able to connect the importance of waking to his bed wetting alarm sound. This alarm also allows the choice of one of 8 sounds, so he could choose one similar to his alarm clock. This alarm does not vibrate. Another wireless option that does have an optional vibrating cushion is the Rodger wireless alarm. The vibrating cushion is activated at the same time as the sound and would be placed near his body.
You may want to have him choose which of these alarms he is most likely to use. Any of them will be effective in helping him get to dryness before his summer camp out. The Treatment Kit, with any of these

alarms included, also features the book "Seven Steps to Nighttime Dryness", which walks you through what to expect when using an alarm and two waterproof overlays which lie on top of his sheet. Overlays make middle of the night changes quicker and save on laundering sheets every day. The best part is that you save over $20 when you order these essential items together.