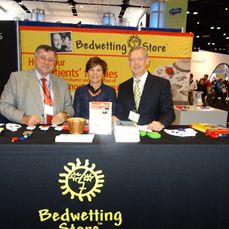 The Bedwetting Store had the pleasure of exhibiting at the American Academy of Pediatrics meeting in Orlando last weekend. Dr. Malem, from Nottingham, England, and the "brains" behind all the Malem alarms joined us. We enjoyed educating young residents about bedwetting alarms and how they work. Some experienced pediatricians had never seen an alarm in real life, even though they have recommended them to their patients. We were able to explain the differences in the various alarms and how one style of alarm may be superior for one child's needs. Since we pride ourselves on providing post purchase information and guidance to bedwetting alarm buyers, we shared that with the doctors as well. Knowing what to expect helps families be successful when using the alarm.
Our two tidbits that were shared with everyone:
#1 Yes, many children sleep through the loud sound initially. The parents need to respond and tell their child what to do next.
#2 Yes, the alarm does not sound until the underwear are wet. This is not "too late" but a necessary piece in helping the brain and bladder to communicate and identify precisely when the child needs to wake up. Over time, the feeling that comes with a full bladder is enough to trigger wakefulness.