I would like to discuss our moisture-proof underwear choices. By popular demand, we have recently added several new underwear options to the line that we carry.
In feedback from our customers, we were asked for a "green" washable alternative to nighttime disposable pants. Over years, the amount of money that families were spending on disposables was adding up. The Super Undies fit this need. An absorbent sewn-in pad extends from the front to back waistband. An absorbent disposable pad can be used over this to double the absorbency in those children who produce large amounts of urine. The best fit is one in which the absorbent pad fits close to the body. These pants can be machine washed and dried and used again the next night. Children need to know that these are bulkier than the disposables they are used to using. In order for cloth to be absorbent, there must be more layers and padding. Even though they are bulkier than regular underwear, they are more discreet than disposable pants for children who are doing a sleepover or camp.
We were also asked for daytime alternatives to wearing pull-ups to school. This communication was often
from families whose children had developmental difficulties, urologic problems or daytime accidents. They wanted these to be easy access for kids to handle independently. We offer daytime absorbent briefs, which are designed to look like regular cloth underwear, with a padded area between the legs to catch any leakage. The boy's style is available in black and the girl's style in white and pink.The outside of this area of the underwear is waterproof, so prevents any embarrassing spots on the outside clothing. The original daytime briefs pull on just like regular underwear. These underwear are designed to be used in the upright position and are not completely waterproof. For this reason, they are not to be used for nighttime wetting.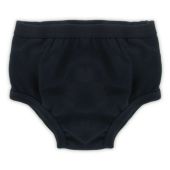 Lastly, families asked for an alternative to the old-fashioned "rubber pants" to prevent leaking, either from disposables or from absorbent underwear or diapers. In the new protective vinyl pants, the vinyl barrier is sandwiched between two layers of cotton cloth. They come in pretty colors of light blue or black and appear to be no different from regular underwear. These pull up and down and stand up to repeated washings. It's best to dry on low heat. These pants do not provide absorbency so should be used in conjunction with an absorbent product or as a backup to prevent a few drops of wetness from leaking through to clothing.
We're pleased to now carry this full line of washable, reusable and comfortable underwear to meet all of your needs. It's important to choose the right product, with the right fit. Measure your child's waist before ordering. Call us if you need help in selecting any waterproof product. 800-214-9605