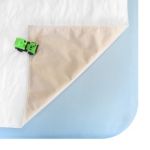 This revolutionary odor-eliminating Halo Shield underpad is just what families need to prevent any odor that comes with bedwetting and incontinence. Parents often tell me that their child's bedroom "smells", no matter how careful they are to get laundry done. Even washing and drying the sheets and mattress covers may not eliminate the odor.
Adding chlorine bleach to the water while in the washing machine is all it takes to recharge the odor-fighting power of this overlay. Once charged, this underpad holds enough chlorine to kill 99.9% of the odor causing bacteria within 10 minutes of contact.
That means that a child or adult can have an accident, and even hours later, the odor will not be present.
The underpad comes in 5 sizes. I highly recommend the Medium with Wings for children who sleep in twin beds. The wings secure the pad in place, even with children's movement during sleep. The other larger sizes work well for Full or Queen size beds.