DK writes that her daughter is very sensitive to touch and refuses to wear a wearable alarm. Are there any other options for her?
There are many different styles of moisture sensing alarms available. The Rodger wireless alarm consists of two pair of cotton specialized briefs with moisture detecting threads sewn in. The small transmitter simply snaps onto the waistband and the sound comes from a unit plugged into the wall. She would have to be comfortable wearing these briefs with the 1"x1" transmitter on the waist. They are no different than other cotton underwear and do not have a lot of elastic around the waist or leg openings.
If she prefers to wear no clothing or underwear to bed, a mat type alarm would work for her. This style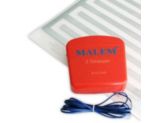 includes the Malem Bedside or WetCall Pad Type alarm. These pads are placed on the bed inside a pillowcase or under a towel. Once the pad becomes wet, it alerts your daughter and you that she needs to get up and go to the bathroom. Over time, she begins to stop the flow of urine and get up more quickly. With this type of alarm, there is nothing that needs to be attached to your daughter. The sound unit could lay on her bed or be placed on a bedside table.
You can ask your daughter which she thinks she would prefer using, while reminding her that using an alarm is the most effective cure for bedwetting. If she's ready to get to dryness, this is the way to do it.