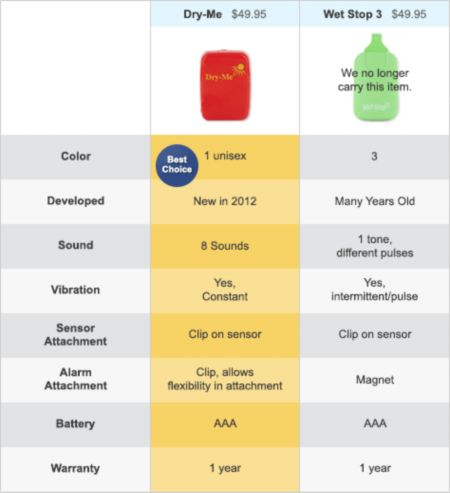 The Wet-Stop3 enuresis alarm teaches nighttime dryness using an alarm attached to the pajamas near the ear and a moisture sensor held onto ordinary close-fitting cloth underwear. The alarm is attached using a magnet that holds the unit onto the neck of the shirt.
The moisture sensor is threaded under the child's shirt and is secured to tight-fitting cotton underwear using the quick-clip jaw sensor. The sensor is attached to the outside of the child's underwear where they would first wet.
The Wet-Stop3 alarm reacts to moisture, teaching the child to stop the flow of urine. When the alarm senses wetness, it alternates an intermittent sound sequence and pulsed vibration when the sound/vibration mode is activated. Sound-only or pulsed vibration-only modes can also be selected.
Comments from the
The Wet-Stop3 plays the same sound in a different pulsed sequence each time it is activated. In the beginning, the sound feature should be used. Remember that it is essential parents be able to hear the alarm, react to it, go to their child's room, and assist them in awakening to the alarm for the first few weeks.
| | |
| --- | --- |
| Manufacturer | Potty MD |
| Alarm Type | Sound and/or vibration |
| Alarm Warranty | 1 year |
| Sensor | Clip-on sensor included |
| Battery | 2 AAA alkaline (not included) |
| Color | Green |
| Alarm Dimensions | Alarm box - 1.75" x 2.75" x 1" |
| Sensor Dimensions | Sensor wire - 36" long. Clip-on Sensor - 1.4" x 0.5" x 0.3" thick |
| Shipping Weight | 8 ounces (View shipping rates and policies) |
| Instruction Manual | Wet-Stop3 Instruction Manual |
| Care Instructions | After each use, wipe the alarm and sensor with a dry cloth. The alarm unit should not be rinsed or submerged in water or other liquids. |
Questions on WET-STOP3 Bedwetting Alarm with Sound/Vibration
From Sarah at 1/02/12
Does this alarm make multiple sounds?
You can listen to the tone this alarm makes by clicking on Alarm Sound above. The same tone plays, in a different sequence, each time the alarm is triggered. It does not make other sounds.
WET-STOP3 Bedwetting Alarm with Sound/Vibration
Easy to use and child friendly
Discontinued Item. We recommend the New Dry-Me Alarm
Ready to Buy?
$6.95
Economy Shipping
Item: APA3
Out of Stock
Price: $49.95
Our customers say it best.
Overall Rating

Based on:

131

reviews

67%

of respondents would recommend this to a friend.
1 month- all done

Comments about WET-STOP3 Bedwetting Alarm with Sound/Vibration:

After 1 month our 5 year old is dry. We had been working on it for 2 years but just couldn't turn the corner to totally dry nights. Can't tell you exactly why it works, but who cares! Wish we would have bought it for our older son.

bottom line: Yes, I would recommend this to a friend.