I have had the pleasure of meeting Dr. Hilal Malem, the creator of the popular Malem alarms, a few times over the last few years. His ability to fine tune and customize his numerous alarms continues to amaze me. Educated as an engineer, his interest in developing a "wetting alert" was piqued when working in a hospital in England. The first rudimentary alarm "pad" has evolved into a variety of small, child friendly devices. Now there are red, yellow, purple, pink, blue, and even camouflage bedwetting alarms available.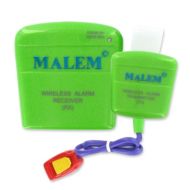 He goes "back to the drawing board" when he receives suggestions from families about the usability and durability of his alarms. His newest alarm is a sleek, lime green, wireless model, especially useful for children who do not like a sensor cord under their shirt or an alarm unit situated on their shoulder. The famous easy-clip sensor is attached to the outside of the child's underwear and the transmitter attaches to the waistband with a strong magnet. Once moisture is sensed, a wireless transmission goes to the receiver, which sounds the alert.
As usual with the Malem alarms, a lot of planning went into this product's development. There are some unique characteristics that many are not aware of. For example, the frequency of the wireless transmission can be changed. Nowadays, with computers, cell phones, wireless remotes, garage door openers, baby monitors, etc., interference can be a problem in some homes. Apartments or multiple family dwellings may even pick up their neighbors signals. Having the option of adjusting the frequency of your bedwetting alarm so that there is no outside interference is a huge benefit. Even though the majority of the users will never experience interference, for the minority who do, this is a great feature.
Another nice feature is the ability to select a single same sound or one of 8 random sounds to be played each night. My personal preference is for the same sound to be played a few nights in a row. If the child begins ignoring this, it can be changed to a different sound. Some of the sounds are more "annoying" than others and are good ones to begin with.
I've seen this alarm used very successfully with older boys who prefer not to wear a shirt to bed. One of my patients chose this model because he shared a room with his brother and he felt that he could just place the sound unit on his bedside table so he could access it without bothering his sibling. The sound unit (receiver) is a sleek looking plastic box smaller than a deck of cards. If a friend was visiting and saw this unit sitting on a dresser or bedside stand, he would not know this had anything to do with bedwetting.
The Malem alarms are all very durable. Like any electronic device, however, the battery containing unit should not be immersed in water. Since many children using bedwetting alarms help their family with the laundry, I've had reports from dismayed parents whose son or daughter forgot to remove the sensor or transmitter from the underwear or bedding before washing. With this wireless alarm, only the part that was damaged in the washer or dryer needs to be replaced.
It's nice to have this durable wireless option available from Dr. Malem.