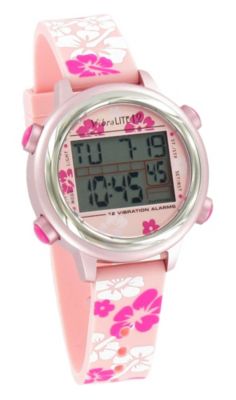 We're excited to announce the NEW VibraLITE 12 watch. This new vibrating watch features 12 daily alarms, which are easy to set with TEXT PROMPTS to assist you. Once you set the independent alarm times, they can be locked in to prevent accidental changes.
The VibraLITE 12 comes in 6 stylish colors, and the pink flowered and grey camouflage watch bands are my personal favorites. The thinner band has extra holes to accommodate smaller wrists. The stainless steel mesh band and white leather band are unique and stylish for older kids or adults. This is a watch that discreetly alerts you with a hard-to-ignore 20 second vibration. Others have no way of knowing this watch is performing extra duties besides telling you the time and date.
With the beginning of a new school year rapidly approaching, many families are thinking of tools that their children might use to remind them to go to the bathroom at regularly scheduled times. Many children can stay dry all day at school if they use the toilet before they have the urgent contraction and associated leaking. Like the cell phone reminders that many of us use, these vibratory watches will provide a regular reminder for your child. Attractive and functional, this watch is a welcome addition to our full selection of vibrating reminder watches.