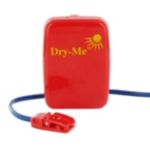 We're always on the lookout for new products and are excited to be carrying the newest bedwetting alarm, Dry-Me. Several features stand out in this wearable, value-priced alarm. The small, red unisex unit fastens to the child's shirt with an innovative, molded plastic clip. This allows the unit to attach anywhere that is comfortable. Some units with magnetic attachments limit the alarm placement to the neck opening of the shirt.
This alarm features both sound and strong, steady vibration. 8 different, loud sounds are randomly played when urine is sensed. This prevents the child from getting used to the same sound. The alarm is set to both sound and vibrate, but can be changed to sound only or vibrate only, if that is preferred.
The sturdy sensor clip attaches to the outside of your child's underwear, where you would expect the first drop of urine to be detected. This clip opens wide enough to accommodate cloth of any thickness.
Once the alarm is triggered, remove the sensor from the underwear, and turn it off by pushing the reset button on the side of the unit. This alarm takes AAA batteries, which are included. This alarm is a great value, at only $49.95 and can be ordered as part of a starter kit, for additional savings. For the same cost as a few bags of pull-ups, your child can become permanently dry.